My team treats every patient coming to our office as family- with respect, patience, and empathy. They are committed to addressing each person's wants and needs in a professional and kind manner, and striving to exceed the individual's expectations.
We have worked together for many years and are like a family, supporting one another so we are able to provide the ideal experience and results for our patients.
~ Dr. Mauricio Malo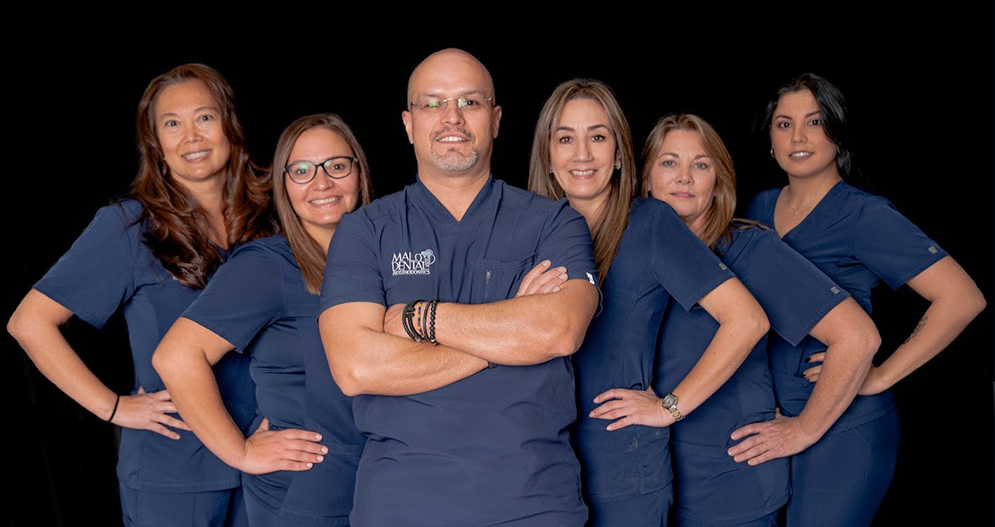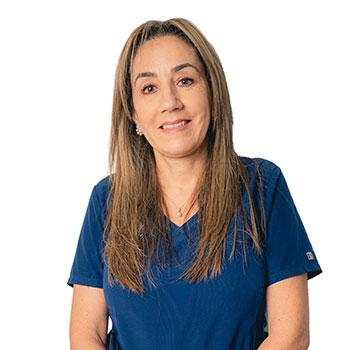 Tatiana
Operations Director
Hello and welcome! My name is Tatiana and I am our Operations Director. My greatest responsibility is ensuring we are well-organized and running on schedule — without sacrificing quality or service — so you have pleasant and worry-free appointments.
I have been in the dental field since 1995, when I graduated in Colombia as a dentist. In 2006, I joined Dr. Malo in our practice. I enjoy getting to know the people we help and love seeing how happy they are with their healthier, more beautiful smiles. Working with a team that is a family makes all the difference for our patients. We are able to care for you as family!
Outside of managing the office, I am dedicated to my husband and kids. I enjoy spending my free time with my family and our friends.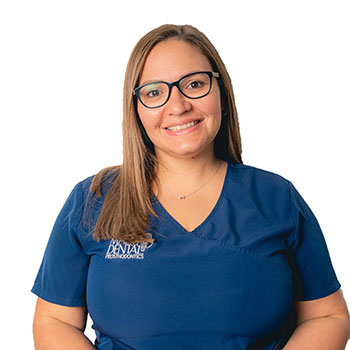 Melissa
Treatment Coordinator
Hello! My name is Melissa and I'll be the first person to welcome you to our office. When Dr. Malo presents and reviews your treatment plan, I will be there to review the financial aspects and ensure you are able to maximize your insurance benefits. I also schedule treatment appointments and am always available to answer any questions or discuss any concerns.
I started in the field in 2004, when I received my dental assistant certificate, and joined Dr. Malo and this team in 2006. I love getting to know our patient family and seeing people happy with their smiles. Ours is a warm and close-knit office, where we are dedicated to ensuring you receive the high-quality, personalized care you deserve!
Outside the office, I spend every free moment with my husband and four beautiful daughters. If I'm not at the softball field, you'll find me at home relaxing and enjoying our pool with the rest of my girl squad.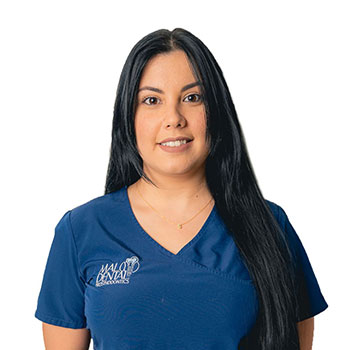 Suriday
Dental Assistant
Welcome! I'm Suriday and we'll meet in the clinic, where I assist Dr. Malo during procedures. I provide oral care instructions, review dental hygiene practices, and work hard to help you regain and maintain a healthy smile. Before your appointment, I sterilize and disinfect instruments, set up trays and prepare materials, and make sure we are ready to deliver painless, efficient treatment.
I am an expanded duties dental assistant. I started in the field in 2014 and found my professional home and family here in 2019. I love being able to help people who have dental emergencies and to see others who are happy when we've restored their smile. Our team is amazing, with a great system that provides each person with incredible service!
While I love my job as a dental assistant — I knew when I was 12 that I wanted to work in the dental field — I have a life beyond the office. I'm an animal lover and have three beautiful Huskies as part of my family. I'm also family-oriented and value my time with loved ones and friends.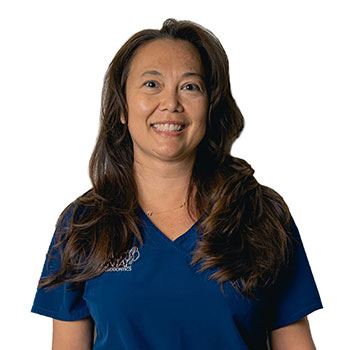 Nga
Dental Hygienist
Hello! I'm Nga and as a dental hygienist I will work with you to establish oral health. In addition to assessing your oral health, I provide preventive and maintenance treatments, and am always attentive to your comfort. During appointments, we will talk about your specific concerns and I'll coach you on ways you can improve your home dental hygiene. I want you to enjoy a lifetime of beautifully healthy smiles.
I started in the dental field in 1987 as a dental assistant, and received my A.S. degree in dental hygiene from Broward College in 1999. I joined this amazing practice in 2011 and love being part of a small, family-owned office which cares about you, our patient, on a personal level. All of us treasure the bonds we form with patients and want the best for you!
My free time is spent with family. My husband was my best friend in high school and we have a wonderful son. We all love the beach and traveling. I also enjoy reading, along with arts and crafts.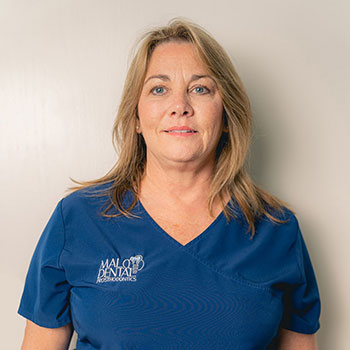 Terri
Dental Hygienist
Hi and welcome! I'm Terri and I look forward to helping you improve your oral health. I will assess your oral health and provide the needed maintenance and preventive care to establish a healthier mouth. I also offer advice and education on maintaining a healthy smile that lasts a lifetime.
I have been a dental hygienist since 1983 and was welcomed to this practice in 2006. I love working closely with such a caring, wonderful doctor and team, and helping people progress to a better state of oral health!
While I love being a dental hygienist, above all else I am a mother of three, grandmother to six adorable grandchildren, and a wife of almost 40 years. Family is my pride and joy, and keeps me busy! A Florida native, I love anything having to do with being near or on the water. I also love to travel. New experiences, foods, and sites are some of my passions. I am a proud dog mom and love my Schnauzers. And I am a people person with a big heart, which is why I find being a dental hygienist to be so rewarding.